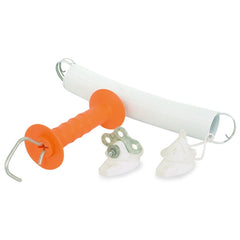 Gallagher White Spring Gate Kit
BUY HERE!
Gallagher Ultra White Spring Gate
---
Features
Ultra white for high visibility to stock and humans.
All metal galvanized and powder coated white.
Insulated Gate Handle has large protective shields and a galvanized non-turning hook.
Can be used on up to 16 1/2' gateways without overstretching.
Retracts to hanging position.
Pre-assembled for convenience.
Kit includes: Insulated Gate Handle, Galvanized White Spring, Gate Anchor Insulator x 2, galvanized mild steel Anchor Plate, Joint Clamp.
Patents Pending and/or Granted.
Weight:
0.78 (kgs) / 1.72 (lbs)
Warranty:
1 year
Colors:
white
Product Code:
G64010