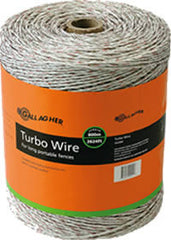 Gallagher 1312' + 300' White Turbo Fence Wire
BUY HERE!
1312' WHITE GALLAGHER TURBO WIRE + 300' FREE
3/32" Turbo Wire
---
Features
Best suited to distances more than 1/8 mi. where extreme power is required.
Turbo Wire resistance is 209 Ohms/mi.
40 times more conductive than standard Polywire.
Nine mixed-metal strands. 
UV-stabilized and strong for longer life.
Ultra white, clearly visible to animals.
Better than standard poliwire or poli wire
Suitable for:
Sheep, Pig, Horse, Cow, Bull, Wildlife
Warranty:
1 year
Product Code:
G620564
Wires, tapes and braids
There are 12 different types of tape, wire, braid and rope in the Gallagher range. Tape is generally used where visibility is important, wire is preferable where wind or adverse weather conditions exist and braid is a woven product designed not to "tangle" or overstretch.